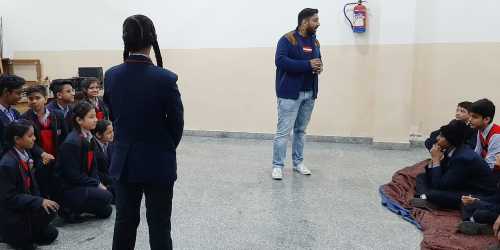 Theatre Workshop Conducted By HT Pace
"We all must do theatre, to find out who we are, and to discover who we could become."
Sant Nirankari Public School Govindpuri organized a 'THEATRE WORKSHOP' supported by HT Pace on 10th February, 2020 for its students to teach them the valuable aspects of brain and body coordination, memorization, listening and acting.
The workshop was escorted by Mr. Rohan Sharma, a versatile theatre actor who involved the students in various role-plays, activities and fun-filled games. The workshop catered 140 students where each and every student was given an opportunity to participate, practice and perform.
Various self- analytical and reflective exercises were done to understand the significance of self – awareness through Drama where Body, Emotions and Mind all work simultaneously to give outstanding results. The workshop was an enriching experience for all the spectators.