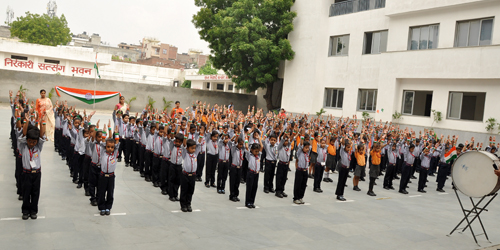 SNPS Govindpuri Celebrated 72nd Independence Day
72nd Independence Day was celebrated on 14.08.18 in our school premises with much pride and enthusiasm. Our Chairman, Mr. Bhuwnesh Thukral and active LMC member were the quests. The programme started with a flag hoisting ceremony by our honorable Chairman sir followed by National Anthem.
To promote the spirit of teamwork among the students, came the fascinating Marchpast of all the four houses which was won by Preet House. Class 1 and 2 performed a uniformed mass P.T. Patriotism unfurled in all the languages. Both Marukh and Meenu of class 8 recited a Sanskrit Patriotic Poem. Students of Classes 3-5 showed their talent through a patriotic song which was followed by a speech on Independence Day by Sneha of class 8. To embrace the occasion, students of Kindergarten showcased the Radhe- Krishna dance representing forthcoming Janmasthami.
The programme was ended with the beautiful performance by senior students giving the message of 'Freedom from Pollution and Plastic'.