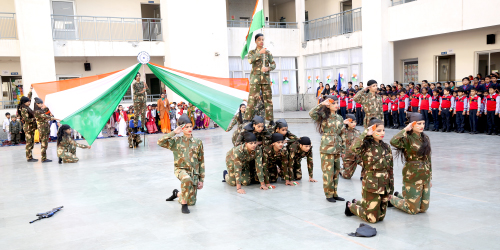 Republic Day – 2020
Ask not what your country can do for you,
Ask what you can do for your country.
We at, Sant Nirankari Public School, Govindpuri had celebrated Republic Day on 26th January, 2020 in the school premises with great zeal and enthusiasm.
Under the movement, "FIT INDIA", we were privileged to have two decorated sportsmen who have earned their name receiving Dronacharya Award as the Chief Guest Dr. Satyapal Singh. And the Guest of Honor, Mr. Sunder Singh, Chief Ticket Inspector,  Northern Railway ,Bronze Medal winner in Asian Track and Field events welcomed by Chairperson ,Ms. Sunita Arora, Manager,Ms. Neelam Batra and the Head of School.
The programme started with the Flag Hoisting followed by the National Anthem sung by the choir group. Head boy & Head girl led the March past of all the four Houses and Melodious Band of young children of the school which was followed by the toddlers in different Patriotic Attire marching with pride.
A melodious patriotic song was presented by young singers.
Students 1st to 4th standard performed Mass Drill in standing and sitting postures spreading the message to remain fit and healthy. The launch of "IMPRESSIONS", E – MAGAZINE 1st Edition was done. The Chief Guest and Guest of Honour shared their experiences of sports with the students and motivated them to actively participate in extra curricular activities and sports to stay healthy and fit. The programme ended with an exuberant dance performance which captivated everybody with the mesmerizing performance.