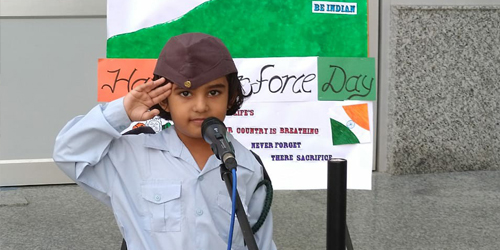 86th Indian Air Force Day Celebrated by SNPS, Govindpuri
Students of our school conducted the assembly on the account of "86th Indian Air Force Day" celebration on 8th October 2018. The program was started with the morning prayer followed by the news headlines.
The objective of the assembly was to make the audience aware of the fact that the Indian air force is the air arm of the Indian armed forces. Its prime responsibility is to secure the Indian air space as well as to carry out aerial warfare during the conflicts.
A group of children prepared a patriotic song" Desh pukare jab sab ko" which mesmerized the audience completely.
Then, the assembly was addressed by our Head of School. Where, she encouraged the students with her motivating words.
The assembly concluded with the "National Anthem".
We also conducted a healthy competition between the students of preschoolers and preprimaries, who were dressed up as an air force officer, each child participated enthusiastically, few spoke on Indian air force, few sang the patriotic song, followed by some patriotic rhymes.